I have kept a diary since I was a kid. It hasn't always made me popular – like when some of the men in my past decided to read it without my permission (and didn't like what they found there).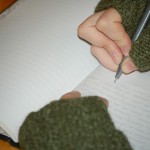 But my diary has always been the one place where I feel free to fully express my deepest thoughts, my darkest fears, my intense confusion and my secret hopes. When times are good, I don't write; when times are confusing, painful or marked by rare joy, my diary helps me make sense of it all.
So, when breast cancer hit me, my diary took on a new importance. From the moment the word "cancer" was said to me, I felt distance between myself and those around me – even those I loved most. When you face such a diagnosis, there are things people want to hear you say, want to believe you are thinking, and then, well, there are your actual thoughts. The two are not often the same. My family and friends wanted to hear me stay positive, wanted to hear me fight. I did fight, I was fighting, but I also felt weak, angry, terrified, and alone. So very alone. How could I explain that to the people who thought they were right there with me? How could I tell them that all the love in the world – though very, very appreciated – didn't make me any less alone because cancer divides the sick from the well, divides those who recognize (almost daily) their own mortality from those who hardly think about it at all.
Behind all the pink ribbons (not a fan of the pink ribbons, which I'll explain in a later post) are real women and our stories are not about racing to the triumphant finish line. They are about the road we take to get there and the raw, gritty, and extreme emotions that come up along the way. This blog is OUR diary, the one place where we don't have to put up a brave front, where we can rant, rave, seek solace or just express the secret hopes, fears and dreams that lie beneath.
So, what aren't you saying? Just know you can share it here.
Share:




Follow: