A decade or so ago, in my journalism days, I interviewed a 22-year-old woman who had just been diagnosed with breast cancer. As shocked and saddened as I was to see such a young person facing what we often assume is a mid-life disease, I was even more surprised when she told me that she worried most about losing her hair. Not her breast; her hair.
I have thought about this young woman a lot over my pre-breast cancer years, trying to sort out whether, if I were in her situation, the loss of my hair or my breast would bother me more. I admit it: I was a late bloomer – didn't see much in the way of breasts until my early 20s, and really, the big "growth spurt" didn't come until my 40s. In the meantime, I had gone through adolescence refusing to look at my flat, "boy-body" in a full-length mirror, uncomfortable with what I saw as my lack of femininity (aka: curves). I only got over this when I heard boys making vulgar comments about a friend's voluptuous form and what they'd like to do with it, just minutes after appearing to be polite and friendly to her. That day, I decided being small was a virtue. Still, as any woman will tell you, breast development is an important part of our sense of body image as we evolve from girlhood to womanhood.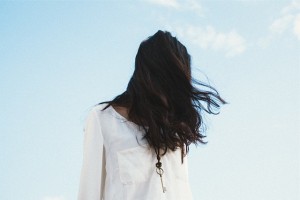 At the same, though, I love my hair. Ok, that's not entirely honest. I, like many women, have a love-hate relationship with my hair. Hate, in that its tendency to frizz makes me crazy. Love, in that when it comes out right, it makes me feel on top of the world. Powerful. Beautiful. My hair is my mask, my armor; it gives me the confidence to brave the toughest day.
The question of which would be harder to lose – breasts or hair – became all too real for me when I received my own cancer diagnosis. I wasn't ready to give up either. But the odd thing was, I actually felt like I had more control over whether to keep my breasts. Continue reading →
Share:




Follow: