I like to think of myself as a young woman. I have a youthful spirit, I dress young, and no one ever guesses my age correctly (always thinking I am 5-10 years younger.) For years, as the numbers crept well above 40, I convinced myself the digits didn't matter. After all, my sister died unexpectedly at age 30, so every year I have lived past that seems like a gift. Plus, I felt 37, so I told myself that I was in fact 37 in all the ways that mattered.
Until I heard the word cancer, and I couldn't lie to myself anymore.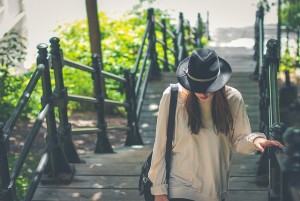 It was like the universe chuckled back, "Nope, you're most definitely 51." I got the punch-line; I had a 51-year-old's illness. I went back to thinking of myself as 51, only this time, I felt 80. The word "cancer" adds a certain sluggishness. You drag yourself out of bed, you wonder how much time you have left, and even if you turn out like me, to have a pretty good prognosis, you still become incredibly – possibly excessively – aware of time (how much has gone by; how little you have left, what you want to do with it.) In real estate, when you buy a house that's worth more than you paid, they say you are "up-side right" in the deal. In cancer, when you are past middle age, you're definitely "down-side wrong." What I didn't want to do was waste one single second.
Then, there were the truly young women I encountered (and still encounter) in my cancer journey. They haunt and inspire me – haunt because they're facing cancer at a time when they should be joyfully starting their adult life; inspire because they weren't bitter about it, even under the most difficult treatment modalities. To be honest, I met more women under age 35 in the treatment waiting room than women above that number. And they were all like young people tend to be, amazingly upbeat and energetic. One woman, her hair gone, flashed me her engagement ring and told me that when this is over, she's getting back to planning her wedding and hopes her hair grows out in time.  Another on her second round of chemo talked about going back to college and wondered if she would be able to have children one day. "But I can't worry about that – at least I'm alive," she smiled. Other young women continue to live large, dress  up, go out, have fun, and live the young life as much as they can and in spite of how bad they might feel.
I fought to tap that youthful vigor throughout my ordeal; I wasn't successful because like most people my age, I know too much. I know there are more years behind me than ahead of me, even without a life-threatening illness. But my awareness of that has guided my post-cancer outlook on life. Yes, we all have things we have to do — responsibilities, bills to pay, etc. But I won't spend one second of whatever time is left in a world of only "shoulds."
The gift of cancer, if there is one, is exactly the awareness that time is precious, and that we can control a fair portion of how we spend it and who we spend it with. I am refocusing my work life on tasks and opportunities that make me feel fulfilled, as if my time here mattered. And I am eliminating all negative influences and people – those who judge, those whose jealousy is toxic, those who are joyless complainers. Somehow, doing that, made me feel — not young per se – but certainly much lighter.
Share:




Follow: