What happened to me is not unusual – not just the cancer (one in eight women will get breast cancer over the course of her life), but also that I had known for months that something wasn't right in my body. I didn't know what it was. I actually felt fine in a medical sense, yet I knew something was off. When friends would ask how I was doing, and I'd say, "I know this sounds strange: I'm fine, but I think I'm not. I have this sense that something's going on inside me."
As it turns out, this isn't that uncommon. Actress Rita Wilson, recently on the other side of her own bout with breast cancer, said she knew something was wrong even though her test results said she was fine. She got a second opinion: it validated her instincts and found the cancer in time for her to receive treatment and a good prognosis. (I shudder to think what would have happened if she didn't trust her gut and schedule that second visit.)
I don't know much about the science of the mind-body connection, but before you dismiss it as negative thinking or some kind of self-fulfilling prophesy, know this: it's happened to me before.Years ago, seemingly out of nowhere I developed an irrational fear of the dentist – odd for me because since childhood I liked dentists (not the services so much, but the experience of being cared for.) I couldn't figure out where this sudden fear came from; all I knew was that I couldn't get myself to the dentist for several years. Then, when I started having chest pains, tests revealed mitral valve prolapse – a condition that at the time required taking antibiotics before dental cleanings to prevent bacteria from entering the heart (which can be fatal). I was stunned: My brain had been trying to tell me something by making me afraid. It triggered the fear so I would avoid the dentist until I was properly diagnosed.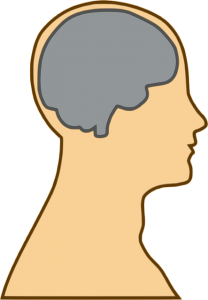 After that, the fear abated and I went back to the dentist antibiotics in hand, but I never forgot the lesson of listening to those inner tugs. The brain may not be able to actually "say" specifically what's wrong, but it can create the sense that something is. I'm not talking about those paranoid moments we all have when we think the slightest ache may be fatal; I'm talking about a nagging, continuous sense that something is wrong. Turns out, medical experts agree. Judith Orloff, Ph.D., intuitive psychiatrist and author of several books including Second Sight says that intuition – those "gut feelings" that something is wrong inside – can be the brain's way of signaling a medical issue that needs to be addressed.
For months before my breast cancer diagnosis, I had those tugs again. To be honest, I wasn't sure what the issue was – my high cholesterol? My kidneys? The day of my mammogram, I told the doctor who examined me about this sense I had that something was wrong. She waved me off: "You're young, you're fine." I hoped she was right. I often look around the waiting room on the day of my mammogram and wonder which one of us will get bad news this year because statistically someone will. That year was my year. They saw something on the mammogram and after a retest and biopsy confirmed it was cancer, the doctor called me and said, puzzled, "You knew. You really knew."
Not me, my brain. I just listened.
Share:




Follow: