A decade or so ago, in my journalism days, I interviewed a 22-year-old woman who had just been diagnosed with breast cancer. As shocked and saddened as I was to see such a young person facing what we often assume is a mid-life disease, I was even more surprised when she told me that she worried most about losing her hair. Not her breast; her hair.
I have thought about this young woman a lot over my pre-breast cancer years, trying to sort out whether, if I were in her situation, the loss of my hair or my breast would bother me more. I admit it: I was a late bloomer – didn't see much in the way of breasts until my early 20s, and really, the big "growth spurt" didn't come until my 40s. In the meantime, I had gone through adolescence refusing to look at my flat, "boy-body" in a full-length mirror, uncomfortable with what I saw as my lack of femininity (aka: curves). I only got over this when I heard boys making vulgar comments about a friend's voluptuous form and what they'd like to do with it, just minutes after appearing to be polite and friendly to her. That day, I decided being small was a virtue. Still, as any woman will tell you, breast development is an important part of our sense of body image as we evolve from girlhood to womanhood.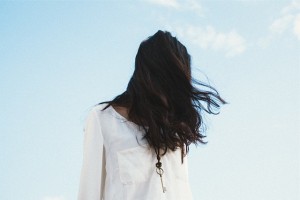 At the same, though, I love my hair. Ok, that's not entirely honest. I, like many women, have a love-hate relationship with my hair. Hate, in that its tendency to frizz makes me crazy. Love, in that when it comes out right, it makes me feel on top of the world. Powerful. Beautiful. My hair is my mask, my armor; it gives me the confidence to brave the toughest day.
The question of which would be harder to lose – breasts or hair – became all too real for me when I received my own cancer diagnosis. I wasn't ready to give up either. But the odd thing was, I actually felt like I had more control over whether to keep my breasts. My cancer was, fortunately, early stage, and my talented surgeon didn't push me in any direction. It was completely my choice. (One I had to make more quickly than I might have liked — and consequently, one which I still wonder about –but mine nonetheless.)
Hair, on the other hand, would not be my choice – at least, not entirely. That would come down to whether radiation alone – or with chemo – would be the protocol. At the time of my diagnosis, I was long overdue for a haircut, but I skipped it. From the moment I heard "cancer," I decided to enjoy every strand on my head until I knew for sure whether I'd need chemo. But even after I found out that there would be only a 5% benefit to me in having chemo (and the doctors considered that too low compared to the harmful aspects of chemo), I could not cut my hair. I went from being the woman who trimmed every 8 weeks to going a year or so without a haircut. Something about holding onto my hair through the surgeries and radiation and medication and stress of it all made me feel….dare I say it, some sense of control.
But it's more than that. I recently "met" a young woman on Twitter who is not only blogging about her treatment, but also about how she can still look good, look like herself, through chemo and all. She posts photos of herself made up and ready to go out, but in them there is both this warrior telling cancer "you won't get all of me" and this girl seeking validation that she is still who she once saw herself to be. Behind it though, she is doing what I did – hoping to "pass," to look (and maybe even feel) "normal." Cancer takes so much – your sense of safety in the world, what you thought you knew about health and well-being. It shoves your mortality down your throat. If that's not enough, the treatment can so dramatically alter your appearance – give you "the look of Cancer" – that you lose your identity and your privacy, too. After all, as your hair falls out, your eyebrows vanish, your weight and skin tone change, how can you maintain control over who knows and who doesn't? Without that control, you can't have even the slightest say in who you welcome into one of the most profound experiences of your life, or in how strangers might respond to you. You lose your "mask," and with it, your sense of power.
So, now, as a cancer warrior myself, I finally get it. You can hide a mastectomy under clothes and prosthetic bras (if that is your choice), but hiding hair loss and the other external signs is much harder. Coping with the damage that that loss of armor and sense of self does, well, that's a separate struggle all its own, and in some ways, more difficult for a warrior already weary from battle.
Share:




Follow: