The day after my final radiation treatment, a dear friend said, "Now cancer is in the rear-view mirror." She meant well, and having been through a (different) cancer of her own a few years earlier, she was drawing from her experience. A pragmatic soul, when her treatment was over, she simply put it all behind her. But I remember feeling my whole body clench at her words and something a bit like anger well up inside me. "Not yet," I replied.
"But it's done now," she said. "You're a surv…."
"No," I cut her off. "Don't say it. Don't say I'm a survivor. I'm not there yet."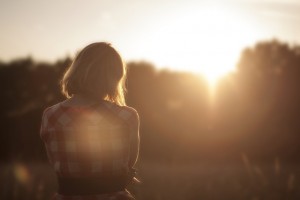 There is a tendency to fast-forward those of us with cancer to the other side, to race us from the afflicted to the well again. On some level I get it – cancer is such a scary illness with so many possible outcomes that loved ones want us to return as quickly as possible to "healthy." They want that "happily ever after." Trouble is, for those of us with cancer, the scars are more than physical.
I'll be honest – and I'm sure this will both resonate with and annoy some folks – for me, the hardest part of cancer was what it did to my psyche. When I got the diagnosis, I went numb. I handled the treatment process methodically, almost robotically – meet with the surgeon, discuss treatment options, have the surgery, wait for the biopsy and oncotype dx results, go for radiation. All very mechanical for me. I kept working (actually, took on more work than ever) and fought hard to "power through", not panic about the unknowns (which was especially difficult in the weeks of waiting for the oncotype dx to reveal treatment and possible prognosis), and live as normally as possible in the meantime. Even I thought that once my radiation ended, I would "get my life back." I couldn't have been more wrong.
When the treatment finished, I crashed. That's when the reality of cancer hit me. I could barely pull myself through the days; for the first time in my life, I was in a full blown depression. I couldn't shake the feeling of betrayal and injustice, the terror that more cancer might be lurking inside me, the sense that life itself seemed pointless.  It took counseling (thank you, LiveStrong Foundation) for me to start to feel more like me again. Even now, nearly a year later, though I have more good days than bad, sometimes it's still an effort to get motivated, sometimes I still feel vulnerable and "unsafe" or confused about why this happened to me, and I still cannot tell you what in my life brings me joy.
I don't know what it takes to feel like a survivor. I know that I am one by virtue of the fact that I have (or so the doctors say) survived the medical aspects of cancer, and for that I am grateful. But I am also dubious. Have I really survived? Is there more coming? How much life do I really have left? These questions  haunt me.
I have both reverence and disdain for the word "survivor." People who have battled the worst cases of any illness and the horrendous treatment that goes with it – to me, they deserve the honor of a label like "survivor." But in our society, the word "survivor" is applied too quickly in a way that seems dismissive of how hard we work emotionally and physically to get back to ourselves. Cancer is a psychological journey, not just a medical diagnosis. I may never use the word "survivor" to describe myself – but definitely not until my psyche has at last fully healed.
Share:




Follow: